Shri. VASANTRAO JOSHI
THE FOUNDER OF MURGAON EDUCATION SOCIETY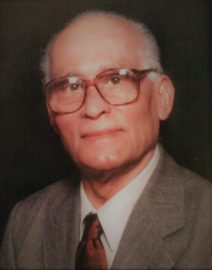 Shri Vasantrao Joshi, popularly known as Anna, the elder brother, is the finest flower of Goa's rich culture, ethos and tradition. Born in an aristocratic family of Vasco da Gama on 27th May, 1921, he was educated in his native Vasco and then in Margao and Panaji in Marathi and Portuguese schools. While pursuing his Portuguese studies at the Govt. Lyceum of Panaji, at the tender age of sixteen Anna was drawn into his father's automobile business. Immediately after the end of Second World War, in 1946 he took full charge of this business, emerging as a major dealer of Bedford cars, trucks and buses. His firm, Auto service was Goa's first automobile importer of cars from England in specially chartered ships. Eventually, after the Liberation of Goa under Anna's leadership the House of Joshi's diversified into manufacturing of light engineering goods, Plastics and in Jute textiles, further adding new leaderships of two, three and four wheelers to their core business of automobiles.
Among the leading businessmen of Goa Anna stands very tall and high with his unmatched humanism and abiding concern for the underprivileged and boundless compassion for the downtrodden. For alleviating their plight he goes out all the way to do his best, bringing them a better lot and a comfortable life. The philosophy underlying his charity and philanthropy is that temporary relief and comfort are less important than empowerment of the individuals through education, skill formation and overall enlightenment. This rational explains the unstinted support and boundless patronage he has been extending to numerous educational institutions in Goa and outside. Education in his first love and prime concern. His aim is to provide the best of education even to the poorest child. For Anna best education is that which is value based and renders the learners self-confident, self-reliant imbued with lofty ideals as much as grit and determination to make a success of life.
In the realm of higher education of Goa in general and Mormugao in particular Anna's richest contribution has been the establishment and nurturing from strength to strength the Murgaon Education Society which now accounts for educating annually over 2000 students through its 3 premier institutions, M.E.S College of Arts & Commerce, M.E.S. Higher Secondary School of Arts, Science, Commerce and Vocational Studies and M.E.S. Institute of Management Studies and Research. Anna's enlightened and benevolent leadership and patronage are the key factors for the glorious progress of all these institutions. Even his occasional visits to the sprawling, evergreen campuses of these institutions radiate charm and inspire confidence among the students, teachers and staff whose hearts are always filled with deepest feelings of gratitude, respect and reverence for the towering personality, named Anna.
His much splendoured contribution to the enrichment of social, economic, political and cultural life of Goa immensely qualifies Anna to be hailed as one of the makers of modern Goa. Among the galaxy of great Goans he stands out as a staunch crusader of youth empowerment.