From the Principal's Desk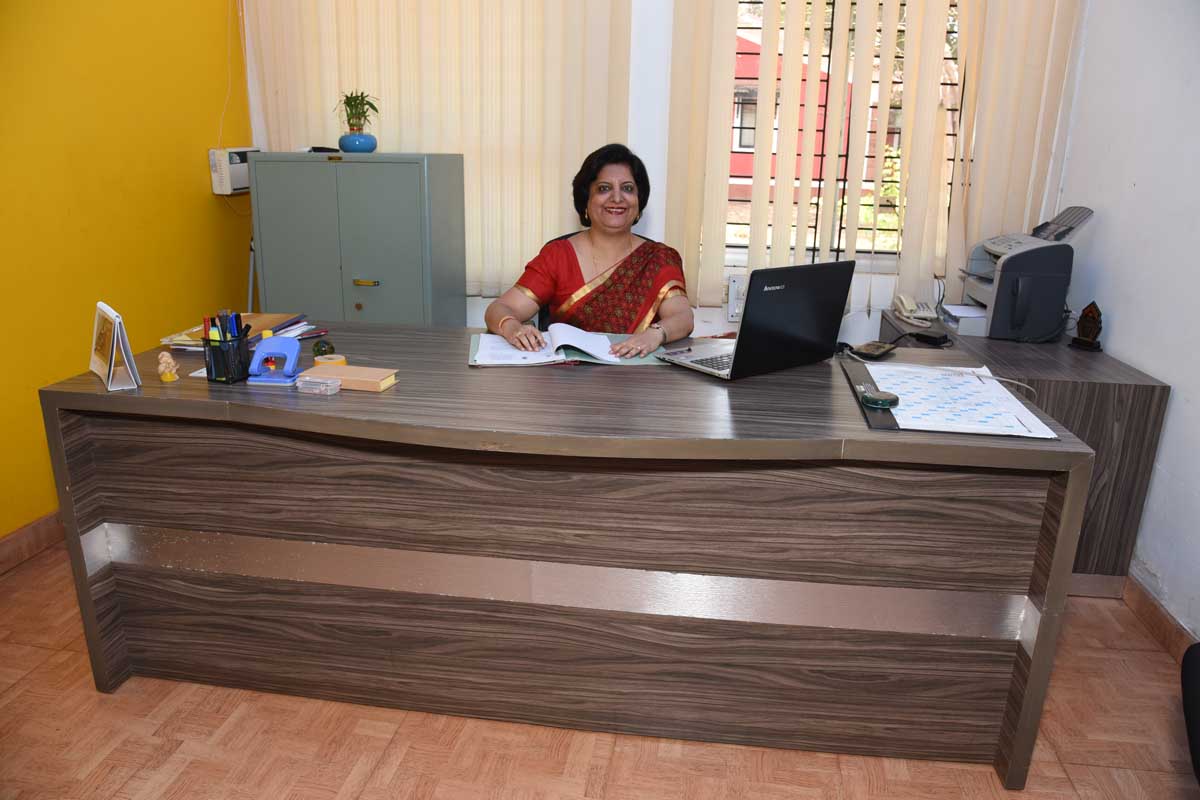 Dr. Meenakshi Bawa, Officiating Principal M.E.S College

Established in 1972, Murgaon Education Society's College of Arts & Commerce is one of the premier institutions of higher education in the state of Goa. The college was founded by the great visionary and philanthropist Late Shri. Vasantrao Subrai Joshi. We are fortunate to be backed by a supportive and visionary management. Shri. M.S. Kamat was Founder Principal of M.E.S. College for almost three decades and is presently the Chairman of Murgaon Education Society. An educationist par excellence, Principal Kamat has been on various academic bodies at the state and national levels. He has played a catalytic role in moulding the lives of many in the student and teaching fraternity and the society at large.
The college is currently offering five undergraduate programmes: B.A., B.Com., B.B.A., B.C.A., B.B.A. (Shipping and Logistics) and one postgraduate programme, namely, M.Com. The B.B.A. (Shipping and Logistics) programme is only one of its kind in the country. It is the first undergraduate programme in India which addresses the commercial and managerial side of the shipping industry. The college has two Research Centres in Sociology and Economics. All programmes are affiliated to Goa University. At present, the college has 1474 students and 60 full-time teaching faculty. We have well-equipped computer laboratories and a fully automated library with a collection of approximately 32000 books and 80 journals and periodicals. The library is also a member of the N-List program of INFLIBNET.

The college supplements the prescribed curriculum through various value-added diploma and certificate courses which serve to enhance the knowledge and skills of the students. These include a Diploma course in Counselling Techniques and certificate courses such as MS Excel for Accounting and Taxation, Practical Banking, Quantitative Techniques and Basics of Econometrics, Written Communication, Conversational Portuguese, Basics of Western Classical Music (Pianoforte) and Tally ERP.9 with GST.
The college imparts learner-centric education which aims at the holistic development of the student community. Students are encouraged to participate in co-curricular and extra-curricular activities at the institutional, state and national levels. Participation in such activities have enabled the students to grow intellectually, develop relevant competencies and have sensitized them about gender issues, human values, environment and sustainability and professional ethics. Our students have performed well in academics, co-curricular and extra-curricular activities. This reflects the diverse and well-rounded education that is provided at M.E.S. College. The college aims to provide a conducive environment for learning and overall development of students, thus enabling students to achieve their true potential.

We take pride in inculcating in students the spirit of selflessness, service, patriotism and discipline through activities organized by the NCC and NSS units as well as by Departmental Clubs/Associations. The Department of Physical Education and Sports is doing remarkably well. The students of the college have participated in many sports events at state, national and international levels, such as athletics, cricket, table-tennis, taekwondo and powerlifting and have brought many laurels to the college.

The resilience required from the 21st century teacher is an incredible mix of passion, professionalism, patience and persistence. Our teachers have played an instrumental role in shaping the lives of the students. The alumni of this college have scaled great heights and are today Ministers, Lawyers, Chartered Accountants, Cost Accountants, Company Secretaries, Executives, Senior statesmen, Government officials, successful entrepreneurs, planners and policy makers actively engaged in shaping the destiny of the state and the nation.

It is widely acknowledged that young people need to perform in a diverse global economy which is typified by technological innovation, which is highly competitive and where entrepreneurism is celebrated. Therefore, higher educational institutions should equip their students with the knowledge, skills and confidence to thrive in today's challenging environment where those who succeed take risks and strive to improve. I believe our students meet these challenges. M.E.S. College, with good infrastructure, qualified and committed staff, supportive management, vibrant Parent Teachers Association and Alumni Association, has the potential to become a centre of excellence.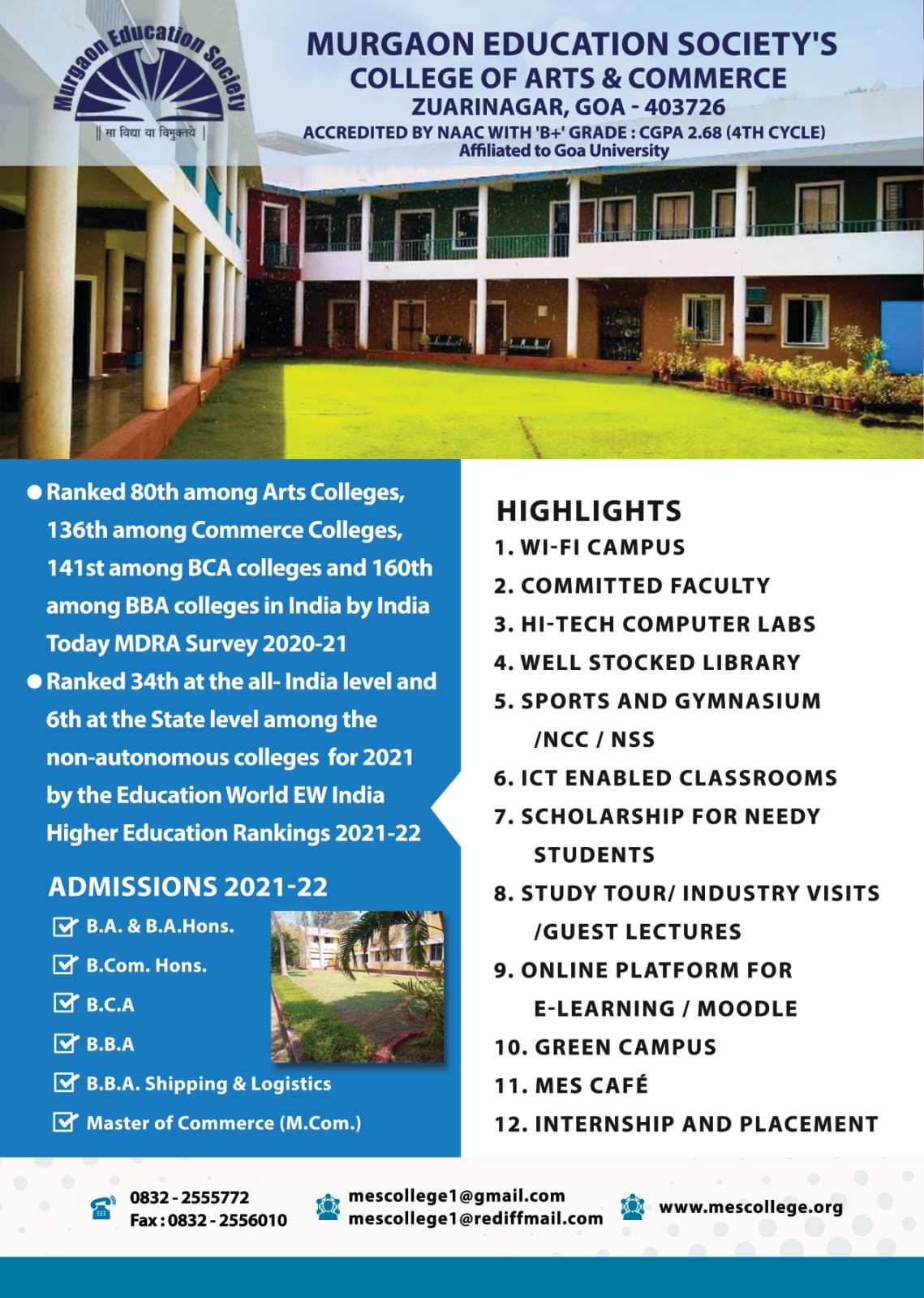 ADMISSIONS 2021-22
Click here to view the details of  ADMISSION COMMITTEE B.A B.Com. 2021-22
B.A./B.COM SEMESTER I/II ADMISSIONS 2021-22 INSTRUCTIONS TO CANDIDATES Click here to view
Admission link for B.A. /B.Com. Semester I and II Click here
For Admissions to F.Y. B.C.A.  click here
For Admissions to F.Y. B.B.A. and F.Y.B.B.A. (Shipping & Logistics) click here
The Prospectus for Online Admissions for the Academic year 2021-22 is available, Click below to view .
The online admission process for all colleges under the administrative purview of DHE Goa, for the academic year 2021-2022 will go live from Tuesday  20/07/2021 10.00 am onwards. The admission portal will be open for applicants till 12.00 midnight Tuesday 03/08/2021. The applicants will be able to edit their application till the last date.
Notices
Walk-in Interview for post of Assistant Professor in Commerce (Maternity Leave Vacancy), for more details Click Here
Click here to read – Government of India Ministry of Health & Family Welfare – SOP on preventive measures to be followed
Click here to read – Goa University Circular on SOPs for offline examination
Pre matric based scholarship, Post Matric based scholarship and Merit Cum means based scholarship to the students belonging to Minority Communities for details click here
Click here to view the details of  Academic Term 2020-21
Mar 6,2020 - Mar 6,2020

BCA Department, M.E.S College of Arts & Commerce, Zuarinagar Goa.