&nbsp&nbsp&nbsp&nbspFrom the Principal's Desk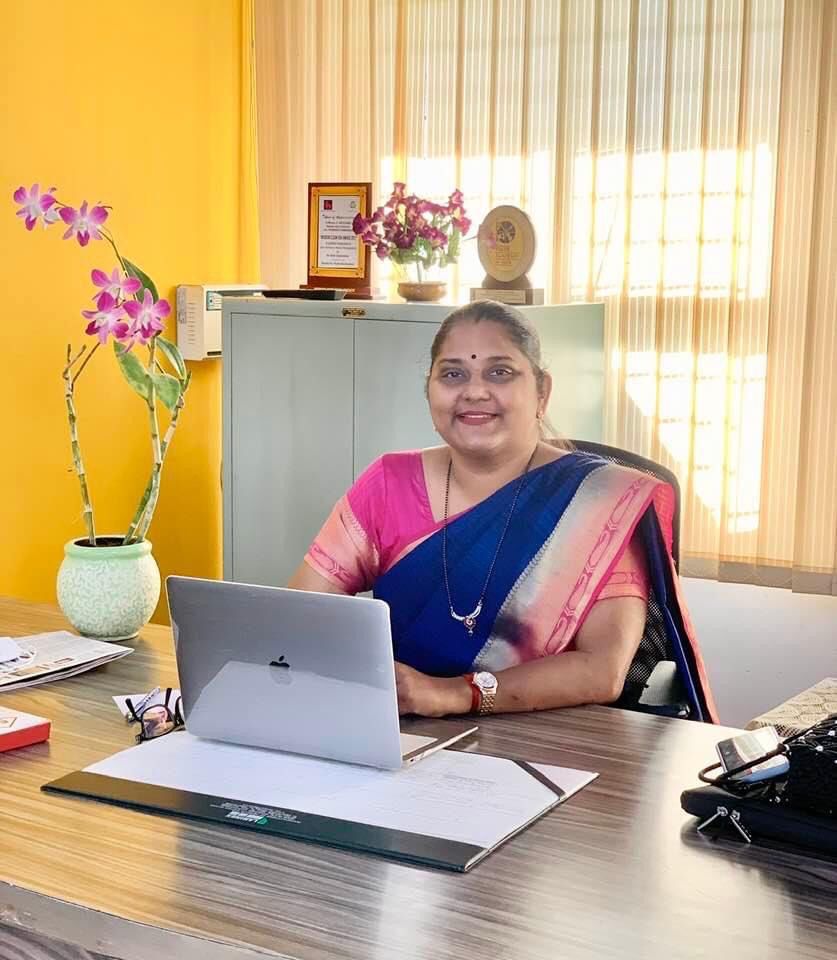 Dr. Manasvi Kamat, Professor and Principal, M.E.S College

I am happy to welcome you dear viewer for visiting the web interface of this great institution called as 'MES College of Arts & Commerce' at Zuarinagar, Goa while we celebrate the 50 glorious years of our governing Society and the College.

Administered by the Murgaon Education Society comprising of erudite educationists and noble men of repute, the Governing Body ensures complete autonomy, democratic and a participative work environment for all of us working in this institution.

Respect to merit, attention to human values, and focus on its vision have always been our the hallmarks. Established in 1972 led by a visionary philanthropist Late Anna alias Vasant Subrai Joshi with the supportive acumen of one of the finest educationist of Goa and the founding Principal M.S Kamat, this College today has made its mark to be among the very best institutions in the country.
The words 'Quality' and 'Excellence' are synomnous with our MES having successfully completed four cycles of accreditation by the NAAC. We have been ranking consistently among the top institutions in the country in the 'Order of Merit' surveyed by 'India Today' and 'Education World' India Higher Education Rankings. For our environment consciousness, waste management and green practices our College has been the trend setter and awarded on more than couple of occasions. So are we recognised for our 'Service towards Humanity' by way of our extension activities.

MES College today offers an array of academic programs from UG to PhD levels catering around 1700 students from diverse backgrounds. Apart from our flagship undergraduate Honors programs in Commerce and Arts (BA and B.Com) with multiple specialisation areas, we offer BBA (General Management), BBA in Shipping Management innovated by us, the BCA (Computer Applications), the M.Com, and PhD program in Sociology and Economics subjects. Our human capital over 60 teaching well qualified staff bring with them over 1000 collective years of teaching experience. We are best in terms of physical and technological infrastructure and are netted in a green and serene campus proximally connected by national highway, air and railway station.
Our Library and the Sports Centre are most well equipped and in cultural and co-curricular activities are well supported by the disciplined NCC (naval and army unity), vibrant NSS and active Departmental Clubs / Associations. Wide choice of value-added, skill-based and employment oriented Certificate Courses add vibrancy to our learner-centric efforts to train our students holistically.

MES College warmly invites you to closely associate with us and be a part of journey towards higher academic enterprise, value sensitisation and nation building. With the blessings of the presiding deity of Vasco City, Lord Damodar, the benevolence of the Joshi family and support of our Management the 'MES Team' is well-equipped to deliver its Best.

I welcome you to be a part of us. Our passion, persistence and professionalism will drive us to compete with ourselves. Collectively we can, and we WILL deliver.